Tuner fish Lug locks
Endorsers.
Tuner Fish Lug Locks are used by professional drummers to stay tuned.
If you would like to endorse Tuner Fish Lug Locks, please click here!
Bob Yerby Vice President of Sales and Marketing for Remo Inc: Tuner Fish Lug Locks are the cheap and effective way to keep your drums in tune while eliminating the possibilities of tension rods from backing out under hard-hitting applications.
Abe Laboriel: Abe is an American drummer who has worked with Paul McCartney, Sting, Hanson, Sheryl Crow, Fiona Apple, Eric Clapton, Shakira, Jewel, Meredith Brooks, Duran Duran, Liz Phair, Chris Castle, Johnny Halliday, Mylène Farmer, Vanessa Carlton, Steve Lukather, Ringo Starr, Chris Isaak, Melissa Etheridge, Jennifer Love Hewitt, Manhattan Transfer, Natalie Cole, Dianne Reeves, Justo Almario, Jonatha Brooke, Gavin Degraw, Meshell Ndegeocello and others
Rex Hardy Jr: Rexsell Hardy Jr. is the new face of music in the Midwest. His career reflects the very essence of the quote "from humble beginnings come great things." In 2004, Rex landed a position in the band of the queen of hip-hop and R&B herself, Mary J. Blige. Rex has played on all of Blige's albums since his time there with her and even worked alongside Grammy award-winning David Foster. He has worked with some other mega producers such as Rodney Darkchild Jerkins, Ron Fair, and Don Was just to name a few. Rex is also an entrepreneur. He owns his own production company, Graphic Beatz Productions, in which many upcoming artists are housed. He is not just a musician, but a musical mastermind in the sense of production as well. Rex's other credits include American Idol, Chaka Khan, P.Diddy, The Dream, Keri Hilson, Avant, Ciara and many many more. Rex is proud to be part of the Tuner Fish Lug Locks family and says "These are by far the best locks I've ever used, Tuner Fish Lug Locks are the way to go!".
Curt Bisquera: Curt, is a world-renowned studio drummer affectionately referred to as "Kirkee B." by those who know him best, is a legend in his own right. Having played with more famous artists than we have room to name, he's in demand both in the studio and on the road. His impressive client list includes everyone from Mick Jagger, Elton John, Tom Petty and the Heartbreakers, Seal, John Fogerty, Sarah McLachlan and John Legend to Hans Zimmer, Josh Groban, Lana Del Rey, Celine Dion, Johnny Cash, Billy Joel, Tina Turner, Donny Osmond, Lionel Richie and many more. You can go to our Fishy Videos page and see what Curt and his Tech Chris Heure have to say about Tuner Fish Lug Locks
Justin Scott: Justin is a superb drummer, plain and simple. His articulation and flow around a drum kit is second to none. He has built up a huge following on social media, and all you have to do is watch some of his videos to see why. More than this though, he is a wonderful human, and we are honoured to have him as part of the Tuner Fish Lug Locks Family!
Tosh Peterson: Tosh is a 19-year-old drummer from Los Angeles, California. Tosh has been touring worldwide since he was 16 years old with artists such as Ashton Irwin, Carlie Hanson, Bryce Vine, and many others. When not touring, you can find Tosh doing session work from home, posting drum videos online, and writing music with his own band, Bexley.
You can find @tosh_thedrummer on Instagram, Twitter and Tik Tok.
Alex Rudinger: Alex was born in Frederick, Maryland in November of 1991 and received his first drum set at the age of 12. He played in a variety of local bands throughout his teens and quickly realised that he wanted to make a career out of music. Alex began relentlessly auditioning for bands via Youtube until he got my first break filling in for Threat Signal when he was 18. Alex then went on to tour with them throughout the next year & played on their Self-Titled release before departing in late 2011. Since then, he has gone on to join & session for a variety of bands both live and in the studio. He has worked with… Good Tiger, Threat Signal, The Faceless, The HAARP Machine, Conquering Dystopia (featuring Jeff Loomis, Alex Webster, & Keith Merrow), Whitechapel, Intronaut, Revocation, Monuments, Evan Brewer, Ordinance, War Of Ages, Cognizance, and many more. Alex is currently working with Whitechapel as their live / fill-in drummer. Alex loves drums & music, and looks forward to many more years of performing and working in this industry!
Eric Hernandez: Eric is currently the session and tour drummer for Platinum Producer and Grammy Award winning recording artist Bruno Mars. Eric has appeared on numerous television programs worldwide including but not limited to; Superbowl XLVIII Halftime Show, The Grammys, Saturday Night Live, The Today Show, The View, American Idol, X-Factor, The Voice, MTV Video Music Awards, MTV European Music Awards, Billboard Music Awards, VH-1 Do Something Awards, The Ellen Degeneres Show, Much Music Awards, The Brit Awards just to name a few.
Eric has had the pleasure of sharing the stage on drums with Sting, Lenny Kravitz, Rihanna, Ziggy & Damian Marley, Red Hot Chili Peppers, Ed Sheeran, Mayer Hawthorne, Taio Cruz, Cee-Lo Green (Gnarls Barkley), Monica, Keri Hilson, K'Naan, B.o.B, Janelle Monae, Carmit Bachar (Pussy Cat Dolls), Tre Hardson (the Pharcyde), Kim Hill ( Black Eyed Peas), Travie McCoy (Gym Class Heroes), Jeff Bhaskar (Kanye West) and the Far East Movement..
Anna Mylee: Anna Mylee was born in Belgium in 1991 and developed a love for music very early on which she inherited from her musician father and mother. She then started performing nationally at the young age of 15 with her original bands and also some jazz and blues sessions. In 2008, Anna got on the fast track to broaden her abilities by studying intensively with renown drum instructor Davide Zecca. She also impressed her local music Academy by passing a three-year music theory class in only nine months. Just two years later, when Anna turned 18, that she got accepted at Tech Music School and she left her native Belgium to relocate in London. During those years of studies, she performed with many artists such as: Ozonna, Shambala, D-Nova, The Future Shape Of Sound, to name a few. After graduating from Tech Music School (BMus Degree in popular Music Performance), she continued to expand her skill set by studying with master drummers like Aaron Spears (Usher) and Ash Soan (Adele). In 2013, she joined the famous British female rock band The Sex Pissed Dolls, which traveled and toured all over the country on big stages in front of ever-growing audience for 2 full years. In August 2015, Anna boldly made the temporary move to Los Angeles to study with Mark Schulman (P!nk), Kenny Aronoff (Paul McCartney, John Mellencamp), and master drum instructor Bruce Becker as well as recording an album for Aven Caine in association with Mark Schulman (P!nk, Billy Idol, Foreigner), Julian Coryell (Alanis Morissette, Leonard Cohen) and Erich Gobel (Black Sabbath).
Daniel Erlandsson: Daniel first started drumming at a young age. His older brother – Adrian Erlandsson used to jam on a little kit in their parents basement and join bands during the teenage years. Daniel saw his brother play and admired that lifestyle, but they never really played together back then because of the age difference (6 years). Daniel started drumming seriously around the age of 12, but by that time his brother was already preparing to move out of the house. Adrian Erlandsson was also the one who introduced Daniel to metal.
Thomas Lang: A native of Vienna/Austria, took up drumming at the early age of 5. In addition to lessons at music schools and years of private tuition, Thomas was formally educated at the Vienna Conservatory of Music. Thomas ha splay with Paul Gilbert, John Wetton, Robert Fripp, Glenn Hughes, Tina Turner, Robbie Williams, Kelly Clarkson, Sugababes, Victoria Beckham, Ronan Keating, Boyzone, The Commodores, George Michael, The Blockheads, Bonnie Tyler and many many more. Thomas has headlined at every major international drum festival and has toured the world many times over. He completed the largest ever drum clinic tour the world has ever seen which saw him do 220 clinics in 48 countries.
Anika Nilles: is a german female Drummer, Songwriter and Producer. After studying Popmusicdesign B.A. at the University of Popular Music and Music Business in Mannheim, she is now focusing on writing and producing her own songs which will be published on her Youtube channel. The most important thing in her tracks, that stylistically belong in the pop/rock genre, is 'the groove!' Anika doesn't use her drums only for rhythm, but much more as an independent instrument. Hereby she manages to avoid unnecessarily putting the focus on herself and leaves room for extravagance. Her fine technique, the distinctiveness of her sound, and her strong groove characterize her songs and her way of playing.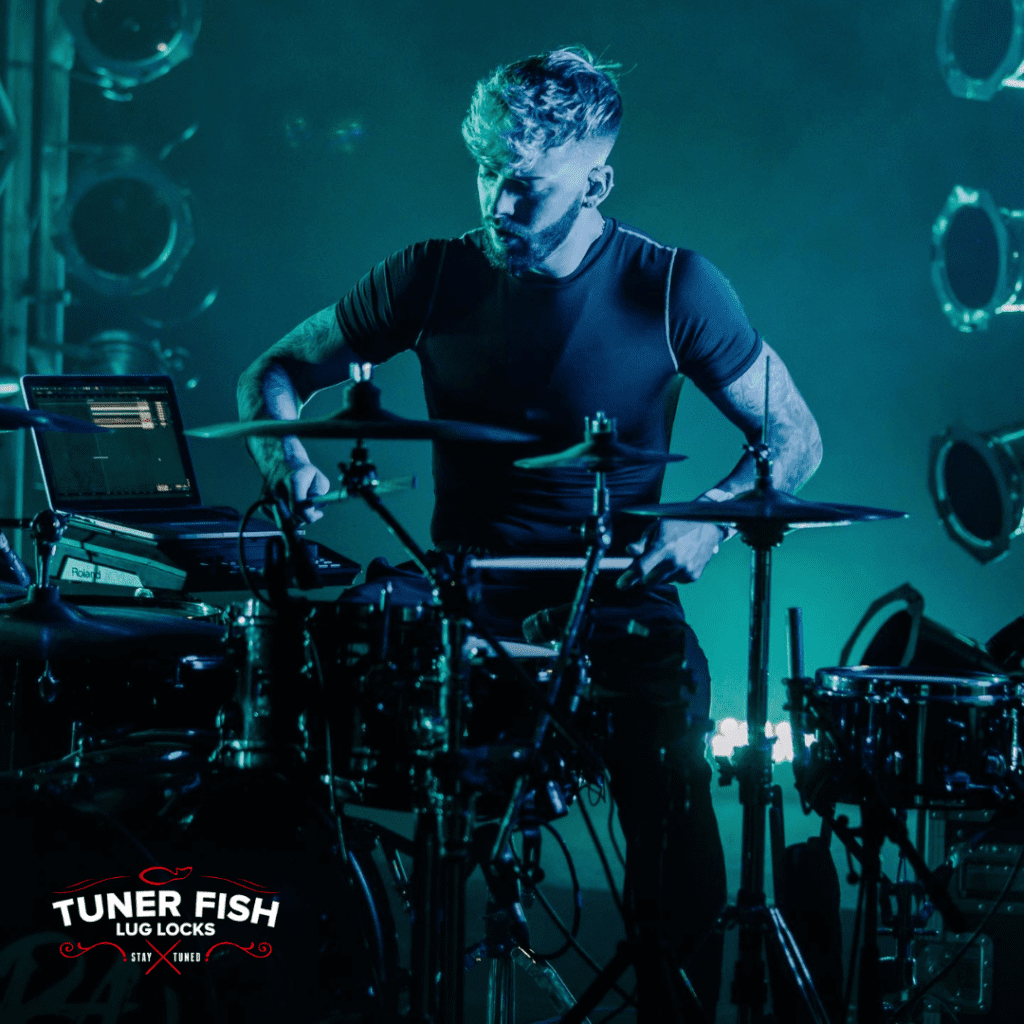 Jack Kennedy THE HARA: Jack started drumming at the age of 9 and astonishingly achieved Grade 8 by the time he was 12. He then began to compete in the Young Drummer Of The Year competition and was a finalist 2 years running. At age 16 Jacks career took shape by supporting Alexander O'Neal on the 30 years of soul tour, after which he went on to complete a Bachelor of Arts degree in Professional Musicianship by the age of 19. In 2017 he joined alternate rock band The Hara and has since achieved multiple No.1 iTunes singles as well as a No.1 EP 'Play Dead'. The Hara have done several sell out UK tours around the UK and performed at many of the major UK festivals.
Adam Marcello: Adam is one of the hottest session players in the industry today! He is currently out with Katy Perry, but has played with, Spookey Ruben, Moby, Sara Bareilles, Kenna, 3OH!3, Ashlee Simpson, Jamie Cullem, Naimee Coleman, Gemma Hayes, Kool Keith, Paul Gilbert, Jennifer Lopez, Rod Stewert, BabyBird, The Rescues, Linus Of Hollywood, Lucy Schwartz and Pussycat Dolls.
Pete Lockett: Pete has recorded and/or performed with Björk, Peter Gabriel, Robert Plant, Dido, Bill Bruford, Jeff Beck, Ustad Zakir Hussain, The Verve, Texas, Trans-Global Underground, Nelly Furtado, Lee Scratch Perry, Primal Scream, Damien Rice, Dave Weckl, Thomas Lang, Jarvis Cocker, Craig Armstrong, Nicko McBrain (Iron Maiden), U Shrinivas, Ronan Keating, Vanessa-Mae, Errol Brown, Rory Gallagher, Pet Shop Boys, Hari Haran, Kodo, Amy Winehouse, Mel C, A R Rahman, Sinead O'Conner and many more! Pete arranged and recorded all the ethnic percussion for five 007 'Bond' films and many other Hollywood blockbusters.
Ken Chatman: Ken has had a talent and passion for music since the age of 3 and began playing at a professional level at the age of 13. When he hit 18, he received professional guidance from percussionists such as Hermon Jackson, Troy Davis, Alvin Batiste, and James Knowles.
He has played for people like Ciara (MD/Drummer), Melanie Fiona, The Williams Bro, Tedd Winn, Johnathan Nelson, Myron Butler, Coko (From SWV), Canton Jones, Diddy, Stacy Joseph (Isreal and New Breed), Vyshawn Mitchell, Dewayne Woods, The Michael Foster Project and The Elements with more and more requests coming in from artists everyday.
Chris Johnson: Now considered as one of the most seasoned drummers, Chris has played with the likes of such great artists: Rihanna, Stevie Wonder, Patti LaBelle, Seal, Nelly Furtado, Chrisette Michele, Heather Headley, Lalah Hathaway, Anastasia, Darius Rucker, Fantasia, Maze featuring Frankie Beverly, plus gospel greats like Kurt Carr, Donnie McClurkin, Dorinda Clark-Cole, Beverly Crawford, and Norman Hutchins. He's a member of the "on the move" band, Legally Blynd. He credits the church roots that gave him the foundation on which he bases his career on; he never broke those strong roots and still can be seen at "The City of Refuge" located in Gardena, CA.
Currently, Chris is playing in his own band called "Invented Like Stars" and working on its self-titled album to be released soon!!
Robin Guy was born a drummer – his Mother proclaimed: "When he comes out, he's either a boxer or a drummer – & I refuse to let him become a boxer…!" Thus far, Robin has played in over 70 bands, with some of the biggest names in rock, pop, punk & metal. He has played & worked with members from IRON MAIDEN, OZZY, TWISTED SISTER, FAITH NO MORE, SHAM 69, JETHRO TULL, RANCID, BAY CITY ROLLERS, JOSS STONE, WHITESNAKE & JAMES BROWN, to name but a few! Robin has a unique & original playing style which commands huge stage presence & is always visually exciting & fun to watch!
Tom Meadows: Tom Meadows, born and bred Londoner, started his career in the burgeoning Acid Jazz scene then moving into the alternative scene with Jamie Hince and Alt-Country with Rosalie Deighton before plunging headlong into the world of pop music with Lucie Silvas. Since then he has played and recorded with Leona Lewis, Girls Aloud, Eliza Doolittle, Pixie Lott, Emma Bunton, Jamelia, Florrie and award-winning French artist Christophe Willem. In 2007 he started working with Duffy, touring the world in support of her debut album Rockferry. He has worked with Kylie Minogue since 2010, playing on her groundbreaking Aphrodite Les Folies world tour, recording her Abbey Road Sessions album and now promoting her 12th studio album, Kiss Me Once.
Cherisse Osei: Is currently working with Bryan Ferry – recording on Bryan's new album set for release in 2015 and playing drums on live shows. In Autumn this year Cherisse embarked on a major UK tour with Bryan Ferry playing theatres across the country including London's Royal Albert Hall. Also Cherisse is playing live with UK's Brit nominated singer/songwriter Paloma Faith. In May 2012 Faith released her second studio album, Fall to Grace, the album was certified double Platinum in the UK and reached number one. The first single, "Picking Up The Pieces" went straight into the top ten in the UK Charts. Cherisse played and toured with new pop sensation MIKA (Casablanca/Universal Island UK) from 2006-2012. Mika's first album 'Life in Cartoon Motion' went straight in at number one in the UK chart going platinum in the first week and a half. His first single 'Grace Kelly' was number one in the UK and the rest of Europe. It sold more than 7 million copies worldwide and helped Mika win a Brit Award—winning Best British Breakthrough act, and receive a Grammy Award nomination. Cherisse also played drums on the track 'Blame it on the Girls' which in history is the second international single to hit #1 in the Japanese Hot 100 after Leona Lewis's 2008 hit, "Bleeding Love".
Joe Yoshida: Joe's place is in the studio, with recent credits including Katie Melua's album 'Ketevan' (2013) and her single 'I Will Be There' (2013); various sessions with Mike Batt and Luke White for his debut album. Joe has made various TV appearances; for commercials such as the LEXUS CT 200h Commercial, the HEINEKEN "The Date" Commercial; and several TV and Radio sessions on ITV, BBC, Channel 5, Radio 2 and others for artists on Dramatico Entertainment and Mike Batt. Joe also performed with Jessie J, Robin Thicke and DJ Cassidy in the music video for their single, 'Calling All Hearts'.
Craig Blundell: Roland Clinician, Session, Composer
Emily Dolan-Davies: Has been drumming since 1999, playing gigs since the age of 11 with bands playing music ranging from Rock to Pop to Blues to Folk and Afro- Punk. Her professional career began in 2008 playing with The Hours signed to Is Good Records and she spent 2 years touring around the world. Highlights of those 2 years include playing with Bono of U2, recording an album with The Hours (See The Light), produced by Flood (U2, Nine Inch Nails) collaborating with Damien Hirst on the artwork and shooting a video with Tony Kaye. In 2010 she got a call from Bryan Ferry to be part of his corporate band and also recorded on his album Olympia which she can be heard on. She can still be seen in various far-flung parts of the world in Bryan's corporate band. In 2011 she joined trip-hop artist Tricky on his his 'Mixed Race' world tour for a year followed by a UK tour and festival run with Cher Lloyd in 2012. 2013 has been spent touring with XFactor artist Janet Devlin around the UK promoting her album Hide and Seek as well as with Jazz/Pop artist Emilia Mitiku promoting her album I Belong To You
Andreas Westhagen: Growing up in a musical family, Andreas was usually to be found either behind his uncle's drum kit or beating the living shit out of couches, pots and buckets. At the age of three he got hit first drum kit and started jamming to his dad's Stray Cats records. By the age of 11, Andreas had played on national television, recorded his first album and played numerous shows in Norway with rockabilly act Built For Speed. He quickly became a regular in the local music scene and used most of his time playing drums and recording with bands. Andreas went on to study music both in High School and University, and is currently making a living by drumming and mixing. Andreas has played with Otis Grand, Eye Emma Jedi, Billie Van, Jonas Alaska, Mikhael Paskalev, JeanClaudeGodDamn and SiN just to name a few.
He currently plays with Built For Speed, Twin Pines Mall and his main band, Carnival Kids, which recently signed to Warner Music Norway and is set to release their debut album in early 2015
Morgan Simpson: Is a fifteen-year-old drummer from Letchworth Garden City, Hertfordshire. Morgan's talent was first discovered at home. Aged one he was clapping in time with the beat of the music. Morgan began playing the drums at the age of two. Like many drummers, he started off playing on pots and pans. He was drumming everywhere he went, even tapping tables with pens. At the age of 2, Morgan's uncle put him behind a full-size drum kit and Morgan began to play a simple beat. At ten years old he had the opportunity to play at the 'Rhythms of the World' music festival that has an attendance of approximately 30,000 people. He has become a regular feature at this annual event. 2014 saw Morgan awarded the title of Young Drummer of the Year, on his third attempt. Morgan has a YouTube Channel with over 70,000 video views with new people discovering his covers every day. Morgan has experience in doing recording studio work. His first project was on his mother's EP 'Free' where he played the drums, Cajon and percussion.
Chris Prendergast: With the help of Mercury Records Chris's original band Loverman flew out to Los Angeles in early 2009 and recorded their EP 'Nurture' with Atticus Ross (Nine Inch Nails) & Joe Barresi (Queens of the Stone Age). The EP led to a tour supporting The Big Pink and eventually to Chris laying down studio drums for The Big Pink in late 2009. Following Loverman Chris spent two years as live stickman for The Kooks & was also involved in the process of putting together their third studio record. Currently, Chris is drumming for Alex Clare whose single 'Too Close' has recently gone platinum in the USA alone.
Johnathan Atkinson: Jon has toured with many artists, including Paul Young, Peter André, Kim Wilde, Howard Jones, Jamelia, Boy George, Alexander O'Neal, Midge Ure, Rick Astley, Gloria Gaynor, Belinda Carlisle, The Supremes, Nik Kershaw, The Pointer Sisters, Kajagoogoo, The Three Degrees, Michael Ball, Bananarama, Tony Hadley, Errol Brown, Tavares, Odyssey, Go West, ABC, Five Star, Cutting Crew, Johnny Hates Jazz, Nick Heyward, The Weather Girls, Curiosity Killed The Cat, China Crisis, The Emotions, Kid Creole and the Coconuts, Jimmy Sommerville, Marc Almond, The Real Thing, Sinitta, Shalamar, Chesney Hawkes, Hazel O'Connor, Boney M, Altered Images, Evelyn 'Champagne' King, Toyah, Limahl, Bucks Fizz, and Sony artist The Alice Band for whom he was musical director.
Sam Agard: Sam started playing the Drums at the age of 8 when his uncle gave him his first drum lesson. He discovered that he had a natural talent for the instrument. After a year of coaching, playing in church & in the school steel band, he decided this is what he wanted to do, play the drums for a living. In 2002 he started working with Dennis Rollins who helped him get into the professional world of music. In September 2005 he started full-time music touring with Corinne Bailey Rae and has since worked with Julian Velard (EMI), Tom Jones (EMI) & Paloma Faith (Epic).
Javier Weyler: Javier is a versatile and integral artist. Being an accomplished drummer, he also writes music, produces, engineers and plays other instruments. His musical projects include Film Scoring, Rock and Latin American music. Additionally to drumming, he has a BA in Media studies and a Sound Engineer diploma. From 1992 until 2000 Javier was a founding member of the Venezuelan band Claroscuro, After relocating to London, and working in several recording studios, he becomes a member of the Welsh band Stereophonics, playing the drums from 2004 until 2012.
Joe Crabtree: Has been playing the drums for over 20 years and I'm still as passionate about it now as I was when I started. Since 2007 I've been the drummer with classic rock band Wishbone Ash.
Joe loves playing live and recording new material but he is especially fond of teaching. Recently I reviewed Tuner Fish Lug Locks so to hear what I have to say about them, head over to the reviews page!
John Watt: October File, Session
Michael Iveson: Michael is living the dream. Sitting in the coveted drum stool for Australian sensation Gotye, he is 6 months away from completing an 18-month world tour on the back of Goyte's hit album Making Mirrors.
Ralph Salmins: Ralph has played with Gloria Gaynor, Lulu, John Etheridge, Annie Whitehead, The BBC Big Band and Loose Tubes. After touring and recording alongside Vinnie Colaiuta with Everything But The Girl, he toured with soul tenorist Kirk Whalum, opening for Whitney Houston and has also played for Robbie Williams
Mike Avenaim: Emblem3 (SyCo Records), Troy Harley (Dream Merchant 21), Colby O' Donis (Grammy Award Winner), Rai Thistlethwayte/Sun Rai (Thirsty Merc), Reece Mastin (X-Factor Winner – Sony Music Australia), Casey Donovan (Australian Idol), Danielle Blakey (2011 NA2R Winner)
Jason Pierce: Jason is one of North Americas' most influential and in-demand drummers. The list of artists he's worked with reads like a who's who of the music industry and includes Paramore, Nick Carter (Backstreet Boys), Justin Bieber, Dallas Green, Treble Charger, Raine Maida, Neverending White Lights, Shiloh, Jessie Farrell, Melissa Auf Der Maur (Smashing Pumpkins), Jimmy Gnecco, Nick Hexum (311), Rob Dickinson (Catherine Wheel), Skye Sweetnam, Carly Rae Jepsen, Keshia Chante and many others. With a style of playing that combines power and finesse, Jason has played on well over 100 records.
Al Webster: Al Webster (Amanda Marshall, Colin James, Jeff Healey, Big Sugar, Jack Bruce, David Wilcox, Long John Baldry, Jaco Pastorius, Robben Ford, Edgar Winter, Mavis Staples). "Tunerfish! The best way to keep drums in tune. Simple & effective".
Ninja Drummist: AKA Lewis Partridge, has been playing the drums since he was 3 years old and was taught by Freddie Wells. Currently playing for festival ska band – New Groove Formation, Lewis is also passionate about teaching online. "I feel I have a responsibility to 'keep the flame' and make sure the knowledge/history of drumming does not become lost in the modern world where so few drummers are lucky enough to receive an education in their instrument." Ninja Drummists YouTube videos receive thousands of hits and can be viewed here.
Wayne Proctor: With a deeper than deep groove, a great sense of musicality, and incredible energy and enthusiasm for all things music and drumming, Wayne displays the kind of commitment in his playing that shows its all about making the music feel and sound as good as possible. Playing for the song is the name of the game. Wayne's diverse and flexible style combined with his wonderfully characterful groove has led to countless opportunities to work with a huge range of artists and legendary producers, applying a chameleon-like ability to adapt to any situation and always play the appropriate thing. Always exhibiting the perfect combination of band member swagger and studio-drummer finesse.
Dave Mattacks: Daves discography includes 5 CD's with Paul McCartney & various CD's / tours with – among many others – Elton John, George Harrison, Jimmy Page, Everything But The Girl, Sandy Denny, Chris Rea, XTC, Jethro Tull, Joan Armatrading, Brian Eno, Nick Drake, ["Procul Harum's"] Gary Brooker, Peter Green, John Gorka, John Martyn, The Proclaimers, Cat Stevens & Loudon Wainwright. Dave successfully combined " Fairport's " schedule with his freelance commitment for 13 years; however, he finally left the band in March of '98 & moved to New England in the US two years later. A few of his credits since then include recording &/or concert dates with Mary Chapin Carpenter, Richard Thompson, Juliana Hatfield, John Jennings, Teddy Thompson, Chip Taylor & Carrie Rodriguez, Steeleye Span, Susan Tedeschi, Martin Sexton, Dennis Brennan & Rosanne Cash."These things really work, and they don't wear out!" Dave Mattacks
Stefan Brunner: Stefan is a German drummer who started playing in bands at the tender age of 12. He is 100% addicted to drumming and is in great demand as a band drummer because he is gained notoriety as a very good team player and helps with the whole organisation of the band and the music. He is an original member of "SCHANDMAUL" which formed in 1998 and is the most popular Folk-Rock Band in Germany, Austria and Switzerland. Since 2006 Stefan has been the band's manager, which has sold nearly 1 million CDs and DVDs in the last year. The last five studio records reached the German media control top ten album charts and the band was nominated two times for the Echo Award. Stefan is sponsored by DW Drums, Paiste Cymbals, Remo, Ice sticks and now Tuner Fish Lug Locks.
Kaz Rodriguez: Kaz is one of the fastest up and coming talents in the UK. From a humble background, Kaz is 100% self-taught and has managed to become an international name of the industry. Kaz has performed with artists such as Cirque Du Soleil, Jessie Ware, and is currently out with the fantastic Sinead Harnett. Kaz is also one of the top Roland clinicians and always back and forth to China to perform. Kaz is a fantastic writer and has written tracks for people like Eric Moore and Aaron Spears to name a couple. Kaz's other endorsements include Tama Drums, Vic Firth Sticks, Zildjian Cymbals and Evans Heads.
Craig Reynolds: After starting out in hardcore punk bands at the tender age of 12, Craig Reynolds set out to carve himself a session drumming career at the 'heavier' end of the spectrum. His studio credits include The HAARP Machine's critically acclaimed 'Disclosure' and his live playing has been seen everywhere from New Delhi, India to New York USA. Currently riding the release of Brutality Will Prevails the latest effort, Craig played over 100 shows in 27 different counties in 2013, and 2014 is shaping up to be just as busy.
Jonathan 'Ginger' Hamilton: Jonathan picked up his first pair of sticks at the ripe old age of three and has since worked with a variety of artists in the gospel and Pop scenes. Coming from a gospel background, Ginger developed his passion for music at an early age and began to quickly build a name for himself on the Gospel scene, leading to him providing the groove for top artists from the age of 14. He landed his first session at 18, working with Destiny's Child member Kelly Rowland, and since then he has gone on to work with Pixie Lott, The Saturdays, N-Dubz, JLS, VV Brown, Peter Andre and Jessie J.
Dexter Hercules: Born and raised in South London Dexter Hercules has been playing the drums since the age of 3. Now at the age of 23 Dexter has already many achievements that boast a great CV. Having already played with artists such as Ronnie Wood, Rita Ora, Eliza Doolittle, Little Mix and many more Dexter is currently on tour with superstar Olly Murs and plays for alternative rock group Polar Zu.
Venzella Joy: Born and raised in Buffalo, NY, Venzella Joy has been playing the drums since the age of 10. She started perfecting her craft by learning to play by ear in church and later learned the fundamentals of music theory in her elementary school band. Joy joined the high school orchestra, where she learned to play multiple percussion instruments and later, in college, she performed with the jazz ensemble. Joy also co-founded Heaven Bound: The All-Girl Band with which she's played various venues and collaborated with a number of gospel artists over the years. In September of 2014, Venzella Joy was featured on the cover of Tom Tom Magazine's Fall 2014 Issue 19: In The Studio, along with a full feature article. Venzella Joy is currently in the process of completing her first EP. Her first single, "Live" was released in early December 2014. The full project is will be released in early 2015. Venzella Joy currently endorses Zildjian Cymbals, Remo Drumheads, Vater Percussion, KickPort International KickPort, DW Drums, and Tunerfish Luglocks. Venzella Joy is currently the drummer for Mrs Beyonce Carter.
Xavier D. Ware: In 2007, he had his first recording with gospel artist Tasha McPherson on the "Lost in You" track. From there he began locally touring with Kimberly Dunn and Pure playing on various stages to diverse audiences, every time professionally prepared. In 2009, he recorded on their album. His distinction became clearer, so much so that he was asked to step in and be the drummer for Seattle Hip Hop artist Neema when opening up for Big Boi of OutKast at a sold-out show in 2010. Without hesitation, he played with the highest level of excellence and rigour.
Marcus Thomas: Like many of today's drumming giants, Marcus started playing the drums in his local home church. For many years he developed his skills in this environment known for manufacturing many of the industries leading musicians. Some of the artists Marcus has played for are: Eric Darius (current), Paul Brown, Alex Bugnon, Bk Jackson (current), Marcus Anderson, Nils Jiptner, Althea Rene, Will Donato, Jonathan Fritzen (current), Vincent ingala (current), Lalah Hathaway, Jackiem Joyner, Jessy J, Blake Aaron, Elan Trotman, Larry Carlton, Warren Hill, Jeff Kashiwa, Brian Simpson, Matt Marshak, Gerald Veasley
Karl Brazil: Karl is known for his groove, feel and ambidextrous style. Being left-handed and left-footed gives him a very different approach to playing in many ways. Known for being very expressive behind the kit some of Karl's facial expressions are priceless. His style and personality have made its mark on whatever drum chair he has held. His versatility has shown over the years in covering many different styles as a drummer. Birmingham born Karl Brazil is now one of the U.K's. Busiest session drummers managing to combine live touring and studio work.
Mike Ellis: Mike began playing the drums after seeing Cozy Powell on TV, a few years later he was playing in semi-pro covers and originals bands in his native Manchester. Before leaving school he was recording with Arthur Kadmon from Ludus and he joined NWOBHM band Aragorn in 1980. Aragorn toured the UK including supports of Iron Maiden, Angelwitch, Saxon and others. As well as extensive session work, including The Distractions, George Clinton, Simply Red and many others, he toured and recorded in Europe, returning to the UK in 1987 where he sessioned and produced in Manchester and London and in 1988 enjoyed a short stint with PJ Proby. Since then he has gigged regularly with many bands, pop, rock, industrial, metal, big band and free form jazz. His recording and production credits include albums with No Leader, Meggido, Snake Eyes, Avoidance of Doubt, Daniel Spiller, Deezil, Derecho and he completed the Aragorn Anthology for Sanctuary Records in 2003. His live CV includes dates with Glorious, Bridgefield, No Leader, Sean Webster, Meggido, In Shadow, Planet of Women, Alike Cooper, Avoidance of Doubt, Burning Beats, Deezil and Derecho.
Zak St. John: While growing up in Wisconsin, Zak performed with some of the most talented players and groups in the Midwest. He also had the opportunity to develop his chops in the Bay Port Drum Line. After finishing his schooling at the University of Wisconsin-Eau Claire, Zak made the move to Los Angeles to further his music career.
Zak has recorded/played with Stevie Wonder, Karmin, The B-52′s, Bitter:Sweet, Christian Martucci (Stone Sour), The Raskins, Ben Moody (Evanescence), Bruce Kulick (Kiss), Phil-X (Bon Jovi), Brian Howes, Davey Rieley, Mike Starr (Alice in Chains), In Theory, The Shrill, Joshua Ketchmark, The Lonely Drunks Club and many more!
Stephen Asamoah-Duah: At 14 years old, he was one of the youngest in the competition and that year he has crowned the 2011 UK Young Drummer of The Year. Later that year too, he was awarded the "Best Young Musician" for the Pat Crumly memorial award and was recently nominated the "Best Musician" award at the 2014 BEFFTA Awards. Following his 2011 win, many doors were opened for Stephen. He did workshops at such a young age, showcasing his talent all over the country. At the 2011 London Drum Show, Stephen had the opportunity to be the opening act for his favourite drummer Rex Hardy Jr. More doors began to open for Stephen, and he began to get more opportunities as a session drummer. Stephen recently played with Fuse ODG at Radio 1Xtra Live supporting the amazing Mary J Blige. He has also toured and played with the likes of Luminites (Britain's Got Talent Finalists), Sasha Keable, Marvell, G Frsh, Kiesza, and many more. Currently, Stephen is now playing for "The Compozers" as well as playing with some of the UK's most successful acts.
Ollie Harding: Ollie Harding knew he wanted to be a professional drummer from an early age. After seeing his dad playing in bands Ollie had to get a kit and started learning drums at age 7. By age 10 he was already an established figure on the local live music circuit and by age 12 Ollie had achieved grade 8 Drum Kit. Since moving to Manchester, Ollie has built up a large network of musicians and has been working extensively at venues all over the city, and right across the country. Alongside completing studies at RNCM, Ollie is currently working with signed Radio 2 play-listed country-pop duo The Shires [Decca Records]; both recording (check out their 'Green Note' EP which reached number 1 in the iTunes Country Charts) and touring with them nationally.
Alex Torjussen: At 22 years old, Alex Torjussen is one of the UK's most promising young drummers, already with a wealth of touring experience and two top ten records to his name. He is currently touring with platinum-selling recording artist Rumer, supporting her third studio album 'Into Colour' in the UK, Europe and Asia. Since graduating from ACM in 2012, Alex has also worked with other notable artists such as Lucy Spraggan (X-Factor), Jacob Banks (Atlantic), Max Milner (The Voice) and Jazz Morley. Alex endorses Sakae Drums, Zildjian Cymbals, Vic Firth Sticks and Protection Racket Cases and now Tuner Fish Lug Locks.
Matt Starr: Matt is a Los Angeles based drummer/vocalist, educator, clinician, Modern Drummer contributor & producer. He is currently the touring & recording drummer for Ace Frehley (KISS) as well as Burning Rain(featuring Whitesnake guitarist Doug Aldrich). Matt has toured with Ace Frehley (KISS), Kevin Dubrow (Quiet Riot), Dizzy Reed (Guns N' Roses), Doug Aldrich (Whitesnake, DIO), Beautiful Creatures & others. In the studio Matt has had the pleasure of working with producers JimmyBralower (VP A&R Atlantic Records, Madonna, Mick Jagger, Joan Jett), Toby Wright (Metallica, Alice In Chains, Korn), Jim Ebert (Meredith Brooks, Toni Braxton, Butch Walker), Mike Chapman (Blondie, The Knack, TheSweet), Dave Bianco (AC/DC, Tom Petty, KISS), Anthony Focx (Aerosmith, Foreigner), Warren Huart (Aerosmith, The Fray) & others. When Matt is not touring he lives in Los Angeles, keeping busy as a producer, singer & publisher. Matt's music has been placed in dozens of TV shows & movies. Matt and his wife are also the creators of Dr Starr Mustache Apparel which sells T-Shirts for every lifestyle featuring an assortment of Dr Starr's fine products.
George 'Spanky' McCurdy: George McCurdy is one of the most proficient gospel drummers in the US. His portfolio consists of such artists as Lady Gaga, Kanye West & Diddy as well as many others!
Eddy Thrower: Professional international touring and session drummer, Drummer in Lower Than Atlantis – lowerthanatlantis.com, 6 Sold out UK tours, Biggest selling rock single of 2015, Most played UK rock band at BBC Radio 1, International touring in Japan, Australia, Europe, America, Canada, Scandinavia. (Artists include – Blink 182, All Time Low, Linkin Park, You Me At Six + more), Two top 40 Albums, Festival appearances include Reading and Leeds Festival x3, Download Festival, Sonisphere festival, BBC Radio 1 Big Weekend, Graspop Festival + more, Recording sessions include artists such as One Direction, 5 Seconds Of Summer, Featured music on games such as Tony Hawk and Guitar Hero
Doug Harper: Doug is currently the drummer for the west end show "The Book Of Mormon" alongside being a composer and working as a session player. Doug has played on records for artists including Alexandra Burke, The Wanted, Donny Osmond, Susan Boyle and has worked live with many artists including Rick Astley, Gloria Gaynor, John Barrowman and Comedian Bill Bailey. Doug is also a contributor to the drum play along site Total Drum Tracks and endorses Ludwig Drums, Sabian Cymbals, Vater Drumsticks, Protection Racket Cases, Roland Electronics and of course Tunerfish Luglocks!